Description
Nikon D3500 + 18-55mm F/3.5-5.6G AF-P DX VR Lens – DSLR Camera Kit. Compact, easy to use, and versatile are all traits of the Nikon D3500, which is designed to be as flexible and intuitive as possible, while still offering the imaging capabilities you expect from a DSLR. Utilizing a DX-format 24.2MP CMOS sensor and EXPEED 4 image processor, the D3500 provides a native sensitivity range from ISO 100-25600 to suit working in a variety of lighting conditions, and the sensor and processor combination also provides a 5 fps continuous shooting rate as well as Full HD 1080p video recording at 60 fps. The sensor's design also omits an optical low-pass filter in order to achieve greater sharpness and resolution from both photos and videos.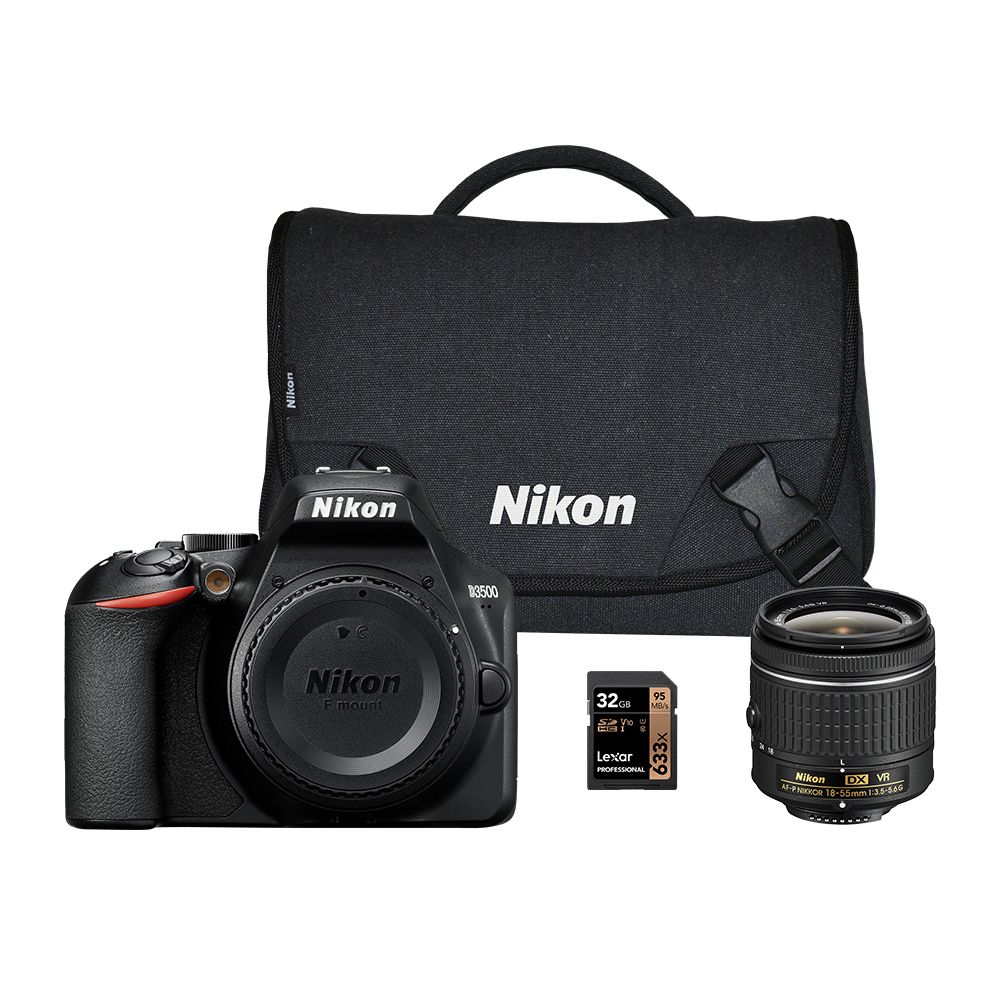 Complementing the imaging capabilities, the D3500 also features SnapBridge, which utilizes Bluetooth connectivity, for wireless sharing of images to your mobile device, including automatic sharing of 2MP images between the camera and your mobile device. The lightweight camera body incorporates a 3.0″ 921k-dot LCD screen for live view monitoring and image review and, catering to first-time DSLR owners, the D3500 also features a helpful Guide Mode to aid in achieving specific photographic looks or techniques, such as how to produce shallow depth of field imagery in a helpful, step-by-step manner. Ten different Special Effects are also available in-camera to creatively refine the look of both stills and movies.
24.2MP DX-Format Sensor and EXPEED 4 Processor
The 24.2 megapixel DX-format CMOS sensor and EXPEED 4 processor work together to produce overall high image quality with notable detail, dynamic range, color accuracy, and low-light sensitivity to a native ISO 25600. Additionally, the sensor's design omits an optical low-pass filter in order to acquire the greatest sharpness and detail from subjects. The EXPEED 4 processor also enables a wealth of speed throughout the camera system, including support for Full HD 1080p movie recording and a full-resolution continuous shooting rate of 5 fps.
SnapBridge Bluetooth Connectivity
Supporting a wealth of sharing and tagging possibilities, the D3500 features built-in SnapBridge connectivity to permit seamless transferring of imagery to a mobile device. BLE (Bluetooth Low Energy) technology enables communication between the camera and a smart device, and allows for automatic 2MP image transfers as you shoot. SnapBridge requires a one-time setup, for up to five unique devices, and also works in conjunction with NIKON IMAGE SPACE for backing up files and sharing imagery.
Multi-CAM 1000 Autofocus Sensor
Benefitting the high image quality is an apt AF system that employs 11 distinct AF points to quickly acquire focus in a range of lighting conditions from -1 to +19 EV.
Full HD Movie Recording
Full HD 1920 x 1080p movie recording is supported in multiple frame rates up to 60 fps, as well as HD 720p, in the MPEG-4 AVC/H.264 format. During recording, full-time autofocus can be employed, with face-detection and subject-tracking capabilities, for ensured sharpness with a wide variety of subject types. Additionally, a built-in monaural microphone can be used to record high-quality sound during movie recording.
Body Design
Redesigned body is more compact, lighter in weight, and has nearly all of the rear controls on the right-hand side of the grip for easier one-handed control.
Rear 3.0″ 921k-dot LCD offers a large, bright means for live view shooting, menu navigation, or image playback.
Eye-level pentamirror optical viewfinder provides a natural means for composing stills.
Built-in pop-up flash can be used to provide additional illumination when working in low-light conditions. A hot shoe is also available for working with an optional external flash.
The included EN-EL14a lithium-ion battery provides approximately 1550 shots per charge.
AF-P DX NIKKOR 18-55mm f/3.5-5.6G VR Lens
Included with the camera body is the standard zoom AF-P DX NIKKOR 18-55mm f/3.5-5.6G VR lens, which provides a 35mm-equivalent focal length range of 27-82.5mm. Featuring an integrated pulse stepping motor, this lens exhibits exceptionally smooth, fast, and quiet autofocus performance to suit both stills and video recording. The optical design incorporates a pair of aspherical elements and a Super Integrated Coating is also featured to suppress lens flare and ghosting. Additionally, this lens also features Vibration Reduction image stabilization to minimize the appearance of camera shake when shooting handheld.
Other Camera Features
A helpful Guide Mode is available to aid in becoming acquainted with the D3500 through a series of step-by-step tutorials.
A range of Special Effects are available to creatively refine the look of imagery in-camera, and include Night Vision, Super Vivid, Pop, Photo Illustration, Toy Camera Effect, Miniature Effect, Selective Color, Silhouette, High Key, and Low Key.
Picture Control modes can be directly accessed via a dedicated button and allow you to set predefined looks to imagery in-camera, and include Flat, Landscape, Monochrome, Neutral, Portrait, Standard, Vivid, and user-customizable settings.
Active D-Lighting helps to preserve both highlight and shadow details when working in contrast-rich scenarios, such as backlit lighting. Utilizing the EXPEED 4 processor's power, a more controlled image will be produced with brightness values closer to how they are naturally seen. This mode is suitable for working with moving subjects.
Scene Auto Selector is an automatic mode that intelligently identifies your subject and shooting scenario, selects a proper Scene Mode to apply, and adjusts exposure settings to best render the scene at hand.
Scene Modes: Auto, Auto (Flash Off), Child, Close-up, Landscape, Night Portrait, Portrait, and Sports.
In-Camera Image Editing features: Color Outline, Color Sketch, D-Lighting, Distortion Control, Filter Effects, Fisheye, Image Overlay, Miniature Effect, Monochrome, NEF (RAW) Processing, Painting, Perspective Control, Photo Illustration, Quick Retouch, Red-Eye Correction, Resize, Selective Color, Straighten, and Trim.
Language support: English, French, Portuguese (Brazil), and Spanish.
Beautiful pictures for all.
You don't need to be a photographer to know a great photo when you see one. And you don't need to be a photographer to take a great photo—you just need the D3500. It's as easy to use as a point-and-shoot, but it takes beautiful DSLR photos and videos that get noticed. It feels outstanding in your hands, sturdy and balanced with controls where you want them. It's compact, durable and versatile, ideal for travel. And it works seamlessly with compatible smartphones, making it easier than ever to share your great photos. Even if you've never picked up a DSLR camera, you can take beautiful pictures with D3500.
DX

Format

24.2

Megapixels

5 FPS

Continuous Shooting

100-25,600

ISO

Full HD

1080p at 60/50/30/25/24p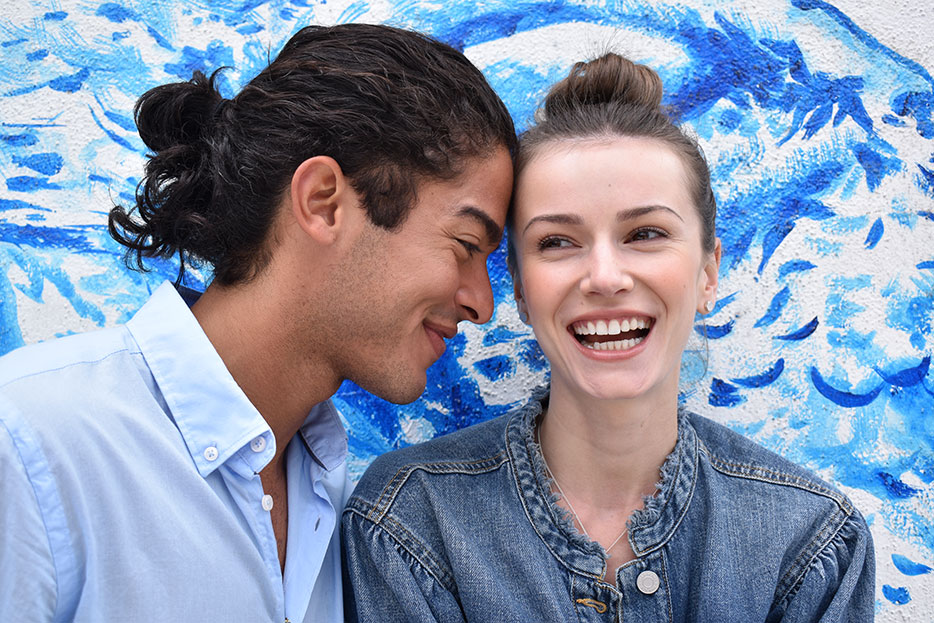 Take more memorable images. The photos you take with the D3500 capture more than the moment—they capture the feeling of the moment, a feeling that can be shared immediately with your friends and family and then relived for a lifetime.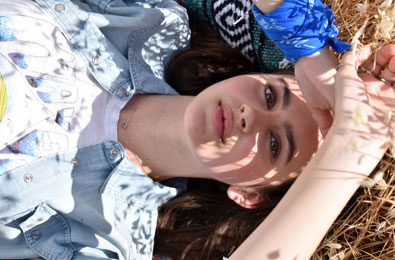 Newbies welcome
If you can take a picture with your smartphone, you can take a great picture with the D3500. Auto Mode delivers amazing results in nearly any situation. If you want to learn while you shoot, turn on Guide Mode and follow simple on-screen guidance.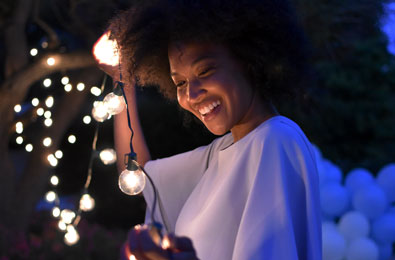 Less thinking. More shooting.
The D3500 is fast, responsive and simple to use. You won't be stuck fussing with camera controls while a great moment passes you by. Just point, shoot and share amazing photo after photo.
Feels great. Goes anywhere.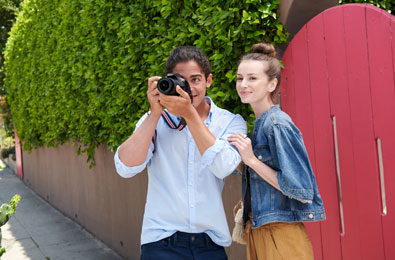 Shoot comfortably
The D3500 simply feels great in your hands. It's lightweight and balanced, even with a telephoto lens attached. Each button and dial is carefully placed for comfort and ease of use, and the menu system is simple and intuitive.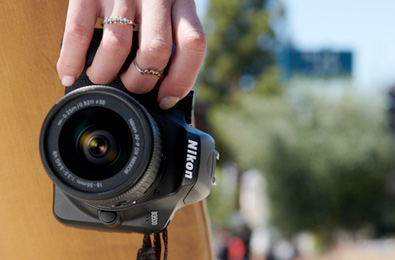 The day tripper
Small enough to be discrete, durable enough to withstand rough conditions; the camera is also available with two outstanding travel lenses, you'll never want to leave home without the D3500.
Smartphone and camera in harmony
Your camera's bridge to your world
Download Nikon's free SnapBridge app and your D3500 photos will appear right on a compatible smartphone or tablet* for posting to your favorite sites, sharing with friends and family or just as backups. You can even use the smartphone or tablet to remotely trigger the D3500 to take pictures.
Share photos that tell stories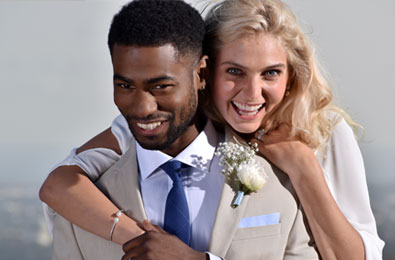 The difference is in the details
The image sensor in the D3500 is approximately 15 times larger than those used in typical smartphones. That means much sharper, clearer photos with richer details—photos that immediately grab attention and get likes.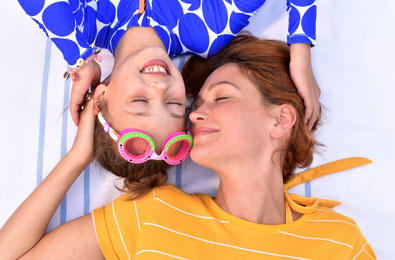 Colors that pop in any light
Inside every DSLR is a specialized computer that fine-tunes the settings for each shot. Nikon's renowned EXPEED image processing system is built upon a rich history of imaging know-how, and it helps the D3500 take beautifully vibrant photos and videos in nearly any condition.
Videos at the touch of a button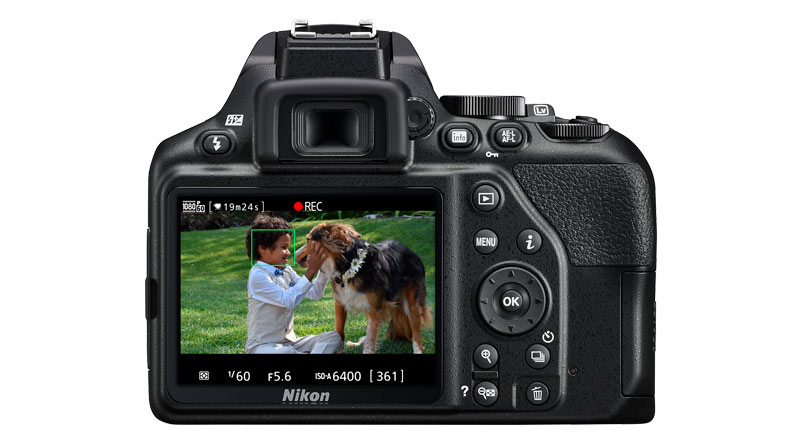 Recording beautiful video with the D3500 is as easy as shooting photos. Just flip the Live View lever and press the record button. You'll be capturing awesome 1080/60p Full HD video instantly and effortlessly. Use your lens' zoom capability to shoot wide angle videos or tight close-ups.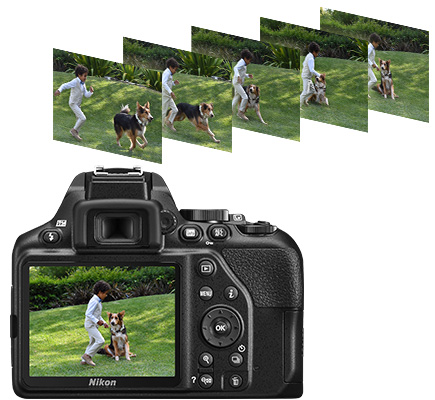 Picture after amazing picture
Some of the best moments only last a split second. Press and hold the shutter button on the D3500 and capture up to 5 frames per second at full resolution with tack-sharp focus, ensuring you land the shot that matters.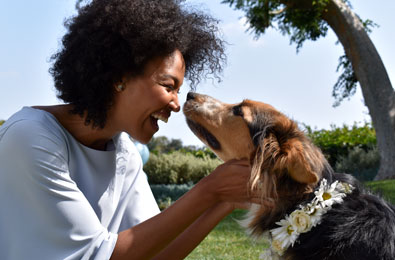 Fast, accurate focusing
Unlike typical smartphones, fast-moving subjects are no problem for the D3500. 11 autofocus points are spread across the frame, and fulltime AF locks onto your subject and keeps it in focus while you capture amazing shot after shot.
Superb NIKKOR lenses; the eyes of the D3500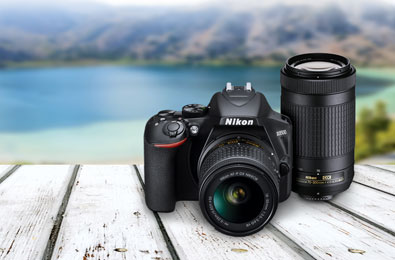 Twice the fun
The D3500 Two Lens Kit includes two matched lenses to help you cover all the angles. The AF-P DX NIKKOR 18-55mm f/3.5-5.6G VR lens is great for portraits, landscapes, videos and other wide perspective shots. The AF-P DX NIKKOR 70-300mm f/4.5-6.3G ED is a versatile telephoto zoom lens that's great for sports, concerts, nature and more.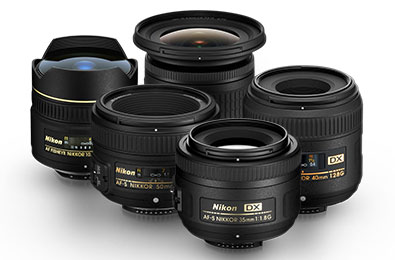 Endless possibilities
Every Nikon DSLR lens offers a fun new perspective. Discover new worlds with an extreme close-up macro lens. Give your backgrounds a dreamy out of focus effect with a fast prime lens. Capture the whole scene with an ultra-wide-angle zoom lens. The possibilities are endless.
± SHARING COMPATIBILITY
The Nikon SnapBridge application must be installed on a compatible smart device before it can be used with this camera.
SnapBridge App Requirements
Android 6.0, 6.0.1 or later, 7.0 or later, 8.0 or later, 9.0 or later, 10
iOS 11.4+
A device with Bluetooth 4.0 or later (i.e., a device that supports Bluetooth Smart Ready/Low Energy) is required.
Updating to Version 2.7
Images downloaded to the smart device with version 1.x will no longer be displayed in the Gallery after you upgrade to version 2, but can be viewed in the "Photos" app provided with the smart device.
Make sure your camera's firmware is updated to the current.
Compatible cameras:
D6, D500, D7500, D5600, D3500, D3400, D780, D850
Z 7II, Z 6II, Z 5, Z 50, Z 7, Z 6
COOLPIX P950, P1000, A1000, A900, A300, B700, B600, B500, W150, W100, W300
KeyMission 80
Compatible devices are those capable of acquiring location information and those that support BLE (iPhone® 5S and later, iPad® 5th Generation and later, iPhone X or later).
There is no guarantee this app will run on all devices
For compatibility and to download the application, please visit: