Description
Nikon D850 DSLR Camera (Body)
The Nikon D850 is Nikon's latest high-resolution full-frame DSLR, boasting a 46MP backside-illuminated CMOS sensor. But, in a fairly radical departure for the series, it is also one of the company's fastest-shooting DSLRs. This combination of properties should significantly widen the camera's appeal to high-end enthusiasts as well as a broad range of professional photographers.
Key Specifications:
45.7MP BSI CMOS sensor
7 fps continuous shooting with AE/AF (9 with battery grip and EN-EL18b battery)
153-point AF system linked to the 180,000-pixel metering system
UHD 4K video capture at up to 30p from full sensor width
1080 video at up to 120p, recorded as roughly 1/4 or 1/5th-speed slow-mo
4:2:2 8-bit UHD uncompressed output while recording to card
1 XQD slot and 1 UHS II-compliant SD slot
Battery life rated at 1840 shots
3.2″ tilting touchscreen with 2.36M-dot (1024×768 pixel) LCD
Illuminated controls
19.4MP DX crop (or 8.6MP at 30fps for up to 3 sec)
SnapBridge full-time Bluetooth LE connection system with Wi-Fi
Advanced time-lapse options (including in-camera 4K video creation)
45.7 Megapixel FX-format BSI CMOS sensor with no OLPF filter
The Nikon D850 DSLR features a newly designed full-frame format backside-illuminated CMOS sensor with an incredible resolution of 45.7 megapixels. The high resolution will enable users to shoot future-proof images for large prints, even after cropping. To make the best use of all the 45.7 million pixels the D850 features no optical low pass filter for sharper images, while the dense array of pixels provides virtually no risk of moiré.
Wide light sensitivity of ISO 32- https://www.fotodiscountworld.co.za/product-category/photographic-equipment/cameras-main/nikon-cameras/nikon-dslr-cameras/102400 range
The Nikon D850 features a wide native ISO range of 64-25600, and if that is not enough a lower expanded sensitivity of ISO 32 is available creative and dynamic range purposes, while 2 higher sensitivities of ISO 51200 and 102400 will enable shooting in extreme low light conditions.
Speed to Match Your Vision
With a continuous shooting speed of 7 fps or 9 fps using the optional MB-D18 battery pack with EN-EL 18b/a Lithium-ion Battery, the D850 can capture those perfect moments in action at it's full 45.7 MP resolution.
14-bit lossless RAW file recording
By capturing RAW files in 14-bit, users will be able to further push post processing for even more accurate colors, wider dynamic range and improve noise reduction.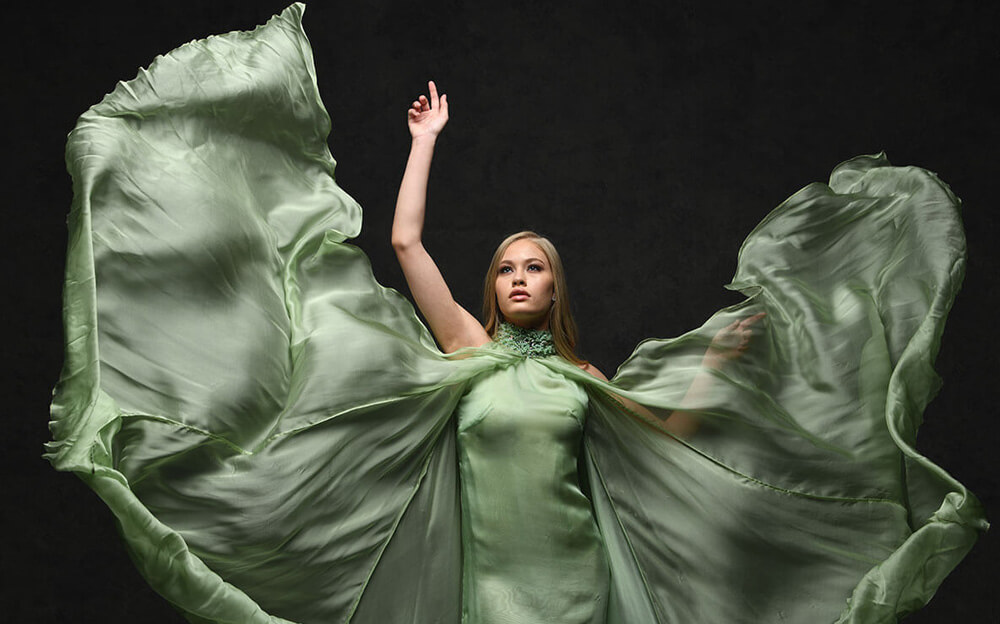 120 fps Slow-Motion
Transform dramatic moments into dazzling fluid slow-motion sequences. Record 4x (shoot at 120p, playback at 30/25p) or 5x (shoot at 120p, playback at 24p) slow-motion at 1080p.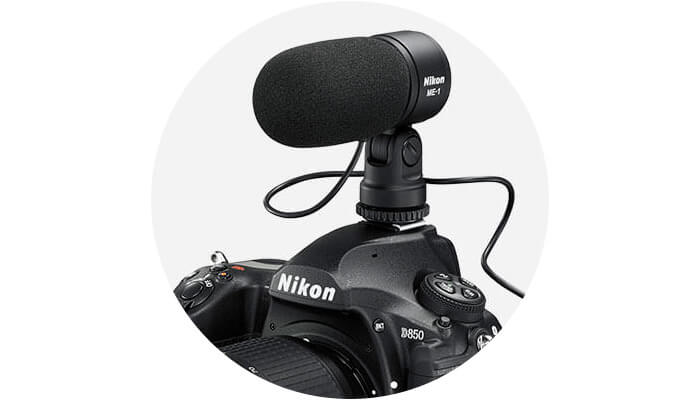 Versatile Sound Controls
When audio levels rise unexpectedly, D850's sound attenuator automatically reduces the microphone sensitivity to prevent distortion and maintain smooth recording with clear sound.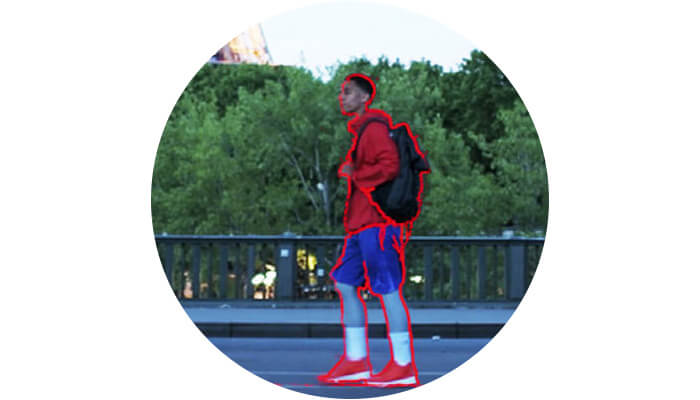 Focus Peaking
Confirm your manual focus with Focus Peaking4. Select high, medium or low sensitivity and red, yellow, blue or white highlights.
EXPEED 5 image-processing engine
Nikon's new EXPEED 5 engine features faster processors, more memory and improved algorithms to produce color accurate images and reduce image noise.
153-point AF system with 99 cross sensors
The Nikon D850 shares the same autofocusing system as the D5. The AF system features 153 points with 99 cross sensors for wider and denser coverage. 99 of the sensors are cross-type sensors with superior subject-detection performance, that are distributed efficiently in central and peripheral areas, delivering more compositional freedom. The camera demonstrates higher accuracy in overall subject detection, including small subjects as well as those with low overall contrast.
1 Up to 7 fps; use the MB-D18 Multi Battery Power Pack with the EN-EL 18b/a Lithium-ion Battery and shoot full resolution up to 9 fps.
2 Among DSLR and Mirrorless cameras as of August 24, 2017.
3 DX Nikkor is also compatible.
4 Available with Full HD or HD or in Stills Live View Mode.
5 Requires 3rd party software.
6 Requires EN-EL 18b Rechargeable Li-ion Battery.
7 Requires firmware version 3.0 or later.
8 Based on CIPA Standards.
180 000 pixels RGB sensor
The Nikon D850 features a powerful 180 000 pixel RGB sensor which maintains high sensitivity while significantly increasing the pixel count. By having more pixels the camera can now detect and focus/meter on even smaller subjects, and the increased sensitivity enables focusing/metering in dark environments
15 autofocus points for f/8 (teleconverter) setups
Fifteen focus points, including nine selectable points, are available for lens setups slower than f/5.6 and equal to or faster than f/8. This will enable autofocus when using a select lens and teleconverter combinations.
Live view AF fine-tune
Live view AF fine-tune lets users accurately fine-tune the D850's autofocus system, optimizing sharpness, and avoiding the lengthy process of trial-and-error tuning.
The D850's amazing processing power and speed enable photographers to shoot with no loss of speed or confidence. The cutting-edge technology used in the camera delivers stable high-speed continuous shooting at a frame rate of up to 7 frames per second (7 fps) with full-time autofocus and autoexposure at any image quality for up to 170 RAW frames. For even faster continuous burst shooting the D850 can be paired with an MB-D18 battery grip to achieve up to 9fps.
Dual memory card slots. One XQD, one UHS-II SD
The Nikon D850 features fast and versatile memory in the form of one XQD memory card slot and one UHS-II SD card slot. XQD is one of the fastest portable storage solutions currently available and features speeds up to 440MB/s. By utilizing XQD the D850 can clear the buffer faster to so you can safely continue shooting.
Video features:
Internal full-frame 4K UHD (3840 × 2160) video recording
The Nikon D850 is further future-proofed by incorporating Ultra HD 4K video recording with no cropping thanks to a full-frame sensor readout. 4K is the latest standard in video resolution and features 2 times more pixels than Full HD. The camera records 4K UHD (3840 × 2160) 30p/25p/24p videos, saving the data onto in-camera memory cards.
120-fps readout recorded at 24p/25p/30p
The D850 can record slow-motion 100-120 fps readout video internally at frame rates of either 24p, 25p, or 30p. This enables dramatic expression of a moment's movement in slow motion. Further, the addition of a dedicated movie shooting menu, the ability to choose the format in which movies are recorded from MOV and MP4, and the ability to apply detailed settings for highlight display make the D850 a much more convenient way to record movies for multimedia users.
Uncompressed 4K HDMI output
An uncompressed 4K frame-by-frame live feed can be directly transferred to an external display or recorder simultaneously.
Focus peaking in Full HD recording
The Nikon D850 enables users to quickly confirm manual focus with Focus Peaking. Select high, medium or low sensitivity and red, yellow, blue or white highlights. Operates in manual focus mode with AF or compatible manual NIKKOR lenses.
Flat picture control
Flat picture control records as much image information as possible to enable more control in post-production. With more control you can produce high-resolution videos that faithfully reflect your creative intentions in a relatively simple process. Even without requiring technical knowledge of video log, or if you are new to video, Flat Picture Control will amaze you with its creative potential and ease of use.
Sound attenuator menu
When filming out of the studio, audio levels can escalate unexpectedly, causing distortion. The D850 incorporates an attenuator menu to avoid such accidental occurrences. When activated, it automatically reduces the microphone sensitivity to the appropriate level — allowing smooth recording with clear sound.
Zebra highlight display
The Nikon D850 DSLR features a nifty zebra pattern highlight display that helps users confirm blown highlights. The camera lets users adjust the level of brightness, to be indicated between 180-255 depending on their needs. What's more, the zebra patterns come in two varieties, selectable according to the patterns and textures of your subjects.
Electronic vibration reduction
When shooting movies hand-held in Full HD or HD, the D850's electronic vibration reduction function reduces the effects of camera shake in the horizontal, vertical and rotational directions (centering on the lens). This is invaluable when limitations of time and location make it difficult to set up a tripod. When combined with VR capable Nikon lenses, the benefits are even more apparent.
Highlight-weighted metering
The Nikon D850 features highlight-weighted metering, helping users to minimize overexposure. This setting delivers a richer tonality in images by giving priority to the brightest portions of a scene and avoiding white clipping. Used together with Flat Picture Control, you can acquire footage with even richer tones and less over-exposed highlights.
Record 4K time-lapse movies in-camera
The D850 takes your time-lapse movies into a new realm with its Nikon FX-format CMOS image sensor. Harnessing the vast pixel count of 45 megapixels (8256 × 5504 pixels) with the high resolving power of Nikon lenses, the camera's interval timer and time-lapse modes allow users to create 4K detailed timelapse movies in-camera without any software.
Movie-shooting menu
The D850 has a new, dedicated movie-shooting menu. This comes in particularly handy when switching back and forth between still-photo shooting and movie recording.
Body, operation and other features:
2,359,000-dot 3.2 inch tilting touchscreen LCD
The D850 features one of the highest resolution LCDs in a DSLR. With 2,359,000-dots, touchscreen and tilting capability, the 3.2 inch LCD will provide easy and intuitive operation from almost any angle.
In-camera RAW batch processing
Shooting in RAW gives greater leeway in post-production, letting photographers draw the most from the images they capture. Until now, however, processing RAW has always been extremely timeconsuming. The D850 resolves this issue by offering an incredibly convenient, in-camera RAW batch-processing feature, which enables you to quickly apply the same adjustments to selected images. It can process 1000 RAW files in approx. 25 minutes. You can save the original RAW files and processed JPEG files on one large-capacityXQD card, or else save the original on XQD and the JPEG on an SDcard in the second slot, for easier data management.
Button illumination
The D850's buttons feature illumination to provides enhanced visibility of the camera controls.
Electronic front-curtain shutter
An electronic front curtain reduces internal mechanical vibration/movement for sharper pictures.
Rugged body with anti-dust and weather sealing
The D850 employs a magnesium alloy body to give it a strong and durable body while being lightweight. The camera body's joined sections are also sealed to ensure high resistance to dust and bad weather, letting you shoot with the utmost confidence, even in inclement conditions.
Digital Single Lens Reflex (DSLR) cameras typically are camera bodies with interchangeable lens systems and your best option for high-quality commercial photography even in the most demanding shooting conditions. With larger image sensors, faster-focusing response and the benefits of a vast range of different interchangeable lenses, we recommend digital SLR camera bodies for professional photography. DSLRs also offer the avid hobbyist photographer creative freedom and quality results, perfect for nature, sports, bird, and wildlife photography enthusiasts. Browse our large collection of Nikon DSLR cameras available from Foto Discount World for amateur and professional photographers.